Get The Look: Mid-Century Modern
At Porcelain Superstore, we've always taken a keen interest in the constant ebb and flow of interior fashion.  Our recent trip to the world's premier tile show – Cersaie in Bologna, Italy – confirmed a trend that has been bubbling under for some time now: the resurgence of Mid-Century Modern.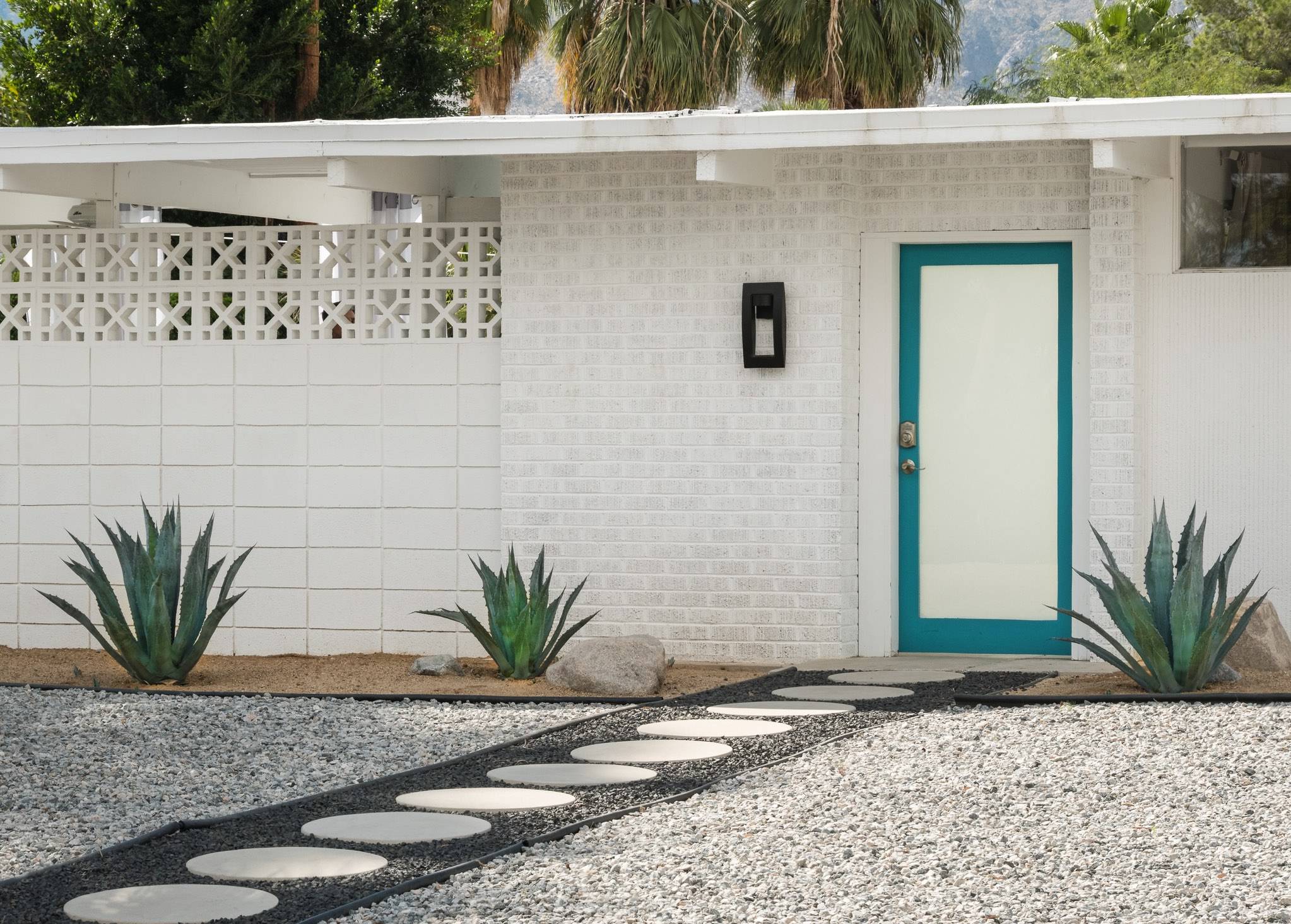 A classic mid-century home in Palm Springs, USA
Take a trip to almost any antiques warehouse or auction room today and you will find that 1950's furniture from names such as Nathan, Ercol, G-Plan, and Heal's is now selling for top prices. This 'Mid-Century Modern' look - characterised by its blend of style, beauty, and functionality – came to prominence in the USA in the '50s when furniture in these styles was introduced by, in the main, German immigrants. 
This period created the collectables of tomorrow: names like Charles and Ray Eames, and Florence Knoll.  Today, equally inflated price tags now adorn the vintage creations of European designers like Jiri Jiroutek, Peter Hoyte, Juhl France, or Henryk Lis.
By the middle of the 20th century, décor had become crisper and less cluttered. After WW2, architects and designers started to strip away unnecessary ornamentation, championing clean structural lines, precision manufacturing, and natural materials.
And colour played a vital role in this new design movement. It is this 1950's palette that is influencing tile design today.
Colours inspired by a 50's palette
Leading paint manufacturers such as Farrow and Ball have included tones from this influential period for many years now.
In this design space, neutrals like Shaded White and Skimming Stone create playful contrasts with saturated shades like Arsenic and India Yellow, or verdant tones such as Yeabridge Green and Churlish Green.  And, to give the illusion of architectural detail in otherwise plain rooms, accent options include London Clay, Tessella, and Lattice.
Looking around Cersaie, we think that the essential tones for a Mid-Century Modern makeover are Olive Green, Dusky Pink, Cherry Red, Leather Brown, Charcoal Grey, Burnt Orange, Old Gold, and Cotton White. Throw in some enticing blue-green highlights, and season with a dash of opulent metallic glaze … and you're pretty much there.
Suitable tiles for the mid-century look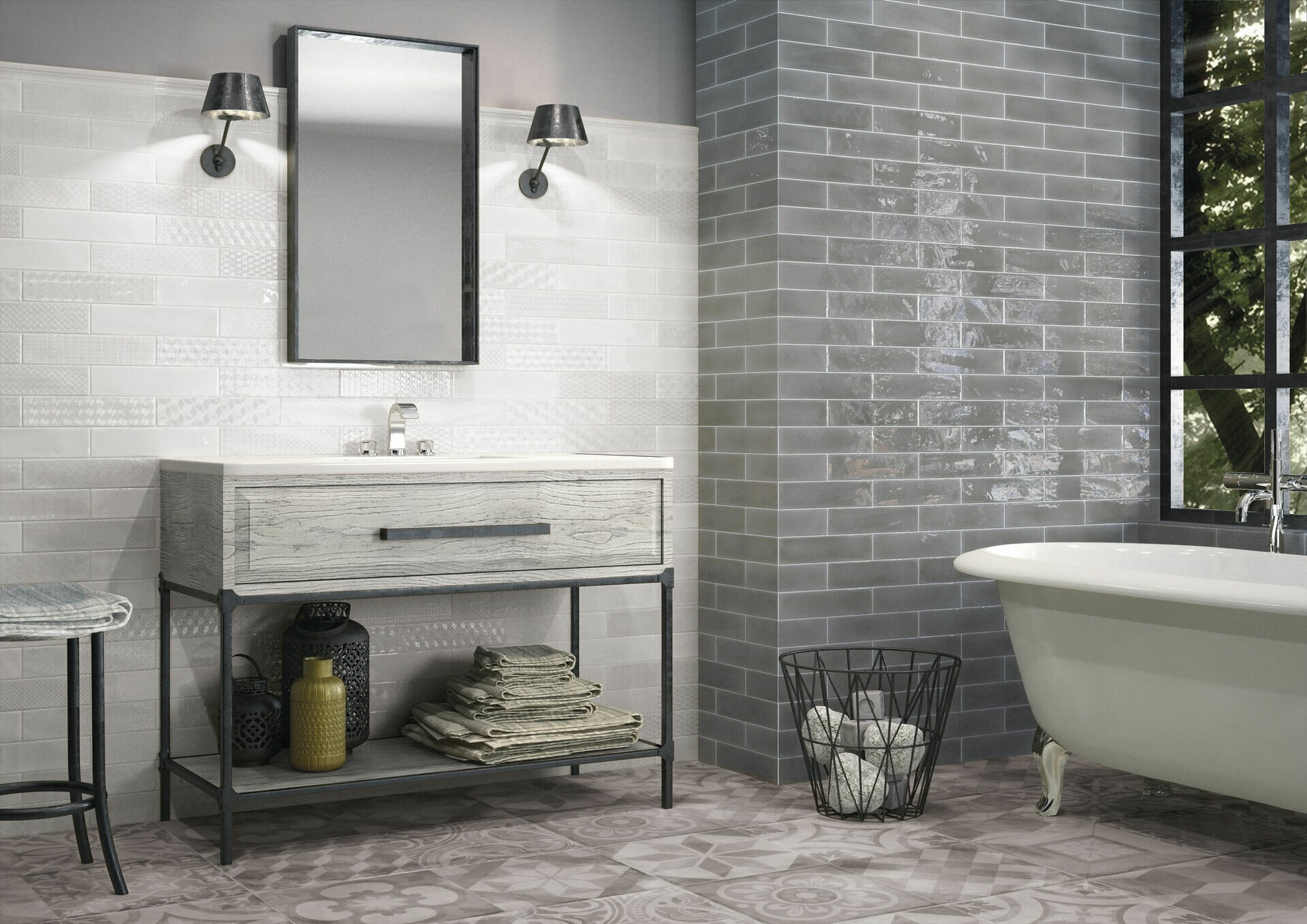 Opal Grey (laid to the right hand side) features the perfect shade of mid grey tones
For the right deep, rich green, check out Albert's Olive Green: a 75 by 150mm glazed wall tile with just the right period vibe.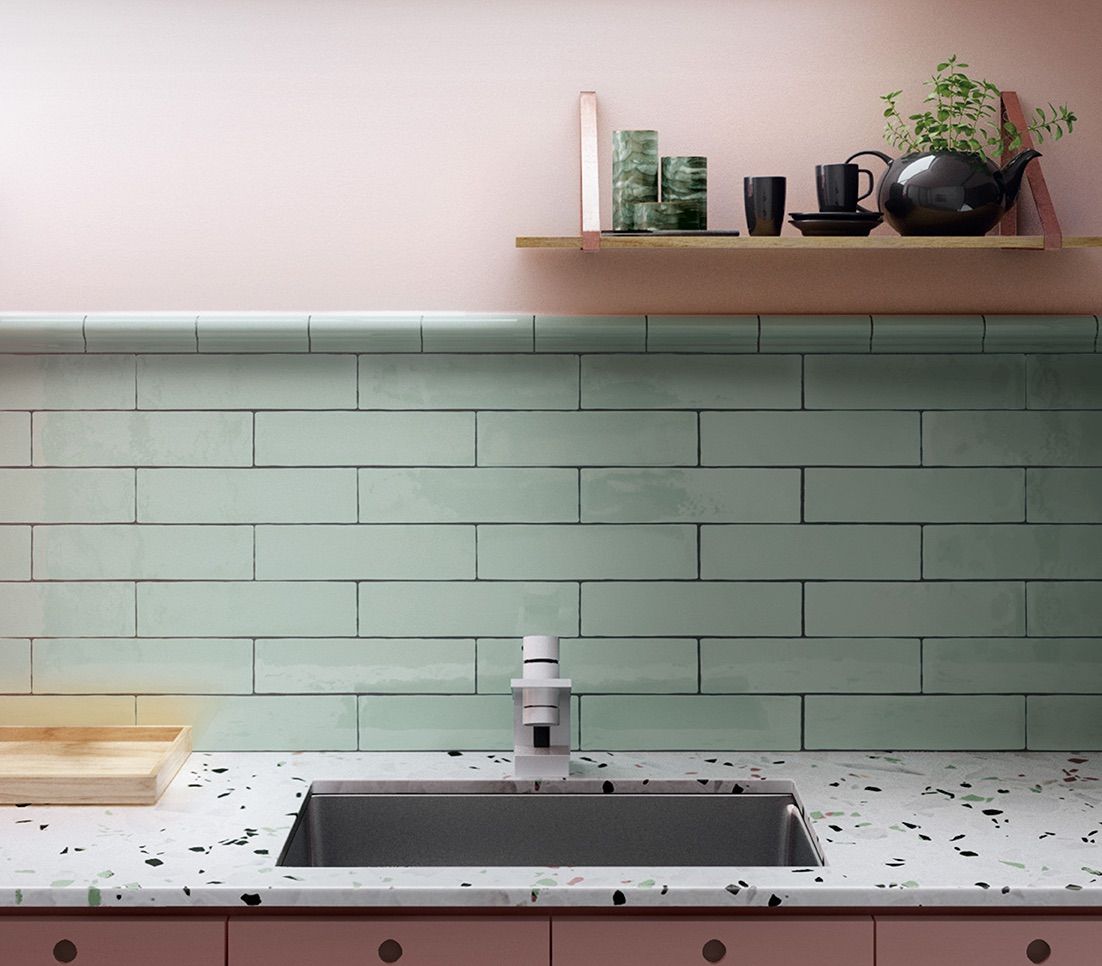 Don't forget pinks and whites!
Pink is enjoying a huge turn on the interiors catwalk right now.  For a Mid-Century Modern hue, we would suggest Marais Rose. Or again, why not combine pink with a pattern, such as our best-selling Palm Springs Pink. Delightful!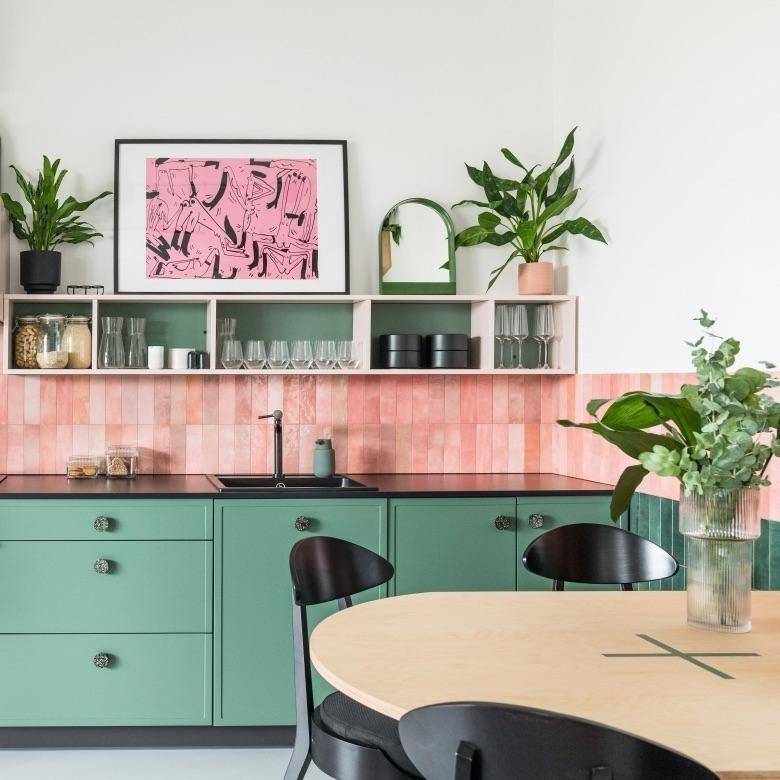 Marais Rose
For a near-white field tile, check out Marais White or Elements Brick White.  These have just enough softness in their white tones to complement the richer hues of the Mid-Century Modern palette.
You can pick up the other Mid-Century Modern tones by leafing though a period paint palette, such as Heritage from Dulux or Crown Paint's Period range.
From Dulux, we'd recommend stronger tones such as Inca Orange and Brushed Gold. Crown has similar tones -Old Gold - plus powerful statement shades of its own, including Forest Vista, and English Fire.
These heritage paint finishes offer the perfect background tones or highlight hues to bring out the best in our Mid-Century Modern compatible tile ranges. We really hope that you enjoy experimenting with this timeless look!