Grey remains the colour of choice for contemporary kitchens, as exemplified by Falmouth; a modern Shaker-style kitchen with an anti-scratch Dust Grey foil finish by Daval.
Falmouth's foil finish delivers a silky smooth surface with self-healing qualities. Ideal for a family kitchen, thermo-reversible healing means that any superficial micro-scratches can be simply repaired using an iron and a damp cloth. As long as the scratch has not penetrated the surface, the kitchen can rapidly and efficiently heal itself.
Falmouth takes the classic Shaker-style kitchen in a modern direction to provide an affordable design that is rich in detail. For example, each door has a smaller frame, deeper centre panel, and five-piece jointed framework, to create contemporary, clean, lines.
"Falmouth is an exciting variation on a much-loved kitchen style that can be tailored to the individual," says Simon Bodsworth, Managing Director at Daval Furniture. "By updating a classic design with the latest developments in kitchen surface treatments, we can extend the lifespan of your kitchen without compromising on style or quality."
"Innovation is fundamental to what we do, and our new Falmouth range is built from sustainably sourced materials and precision engineered in our Yorkshire factory, where we combine the best of traditional joinery techniques with our industry-leading, production methods" says Bodsworth.
As well as Dust Grey, Falmouth is available in a range of other contemporary colours, while the collection of foil finishes also includes Cashmere, Charcoal, Dove Grey, Porcelain, Portobello, and Talpa.
When it comes to finding the perfect tiles to pair with this updated Shaker style, Porcelain Superstore's portfolio has some excellent options. Our preference is for a retrained, light coloured, wood-effect plank format on the floor; and a subtle neutral stone-effect tile, with delicate figuring, on the wall as a feature splashback. This combination maintains and amplifies the restrained elegance of the grey Falmouth kitchen.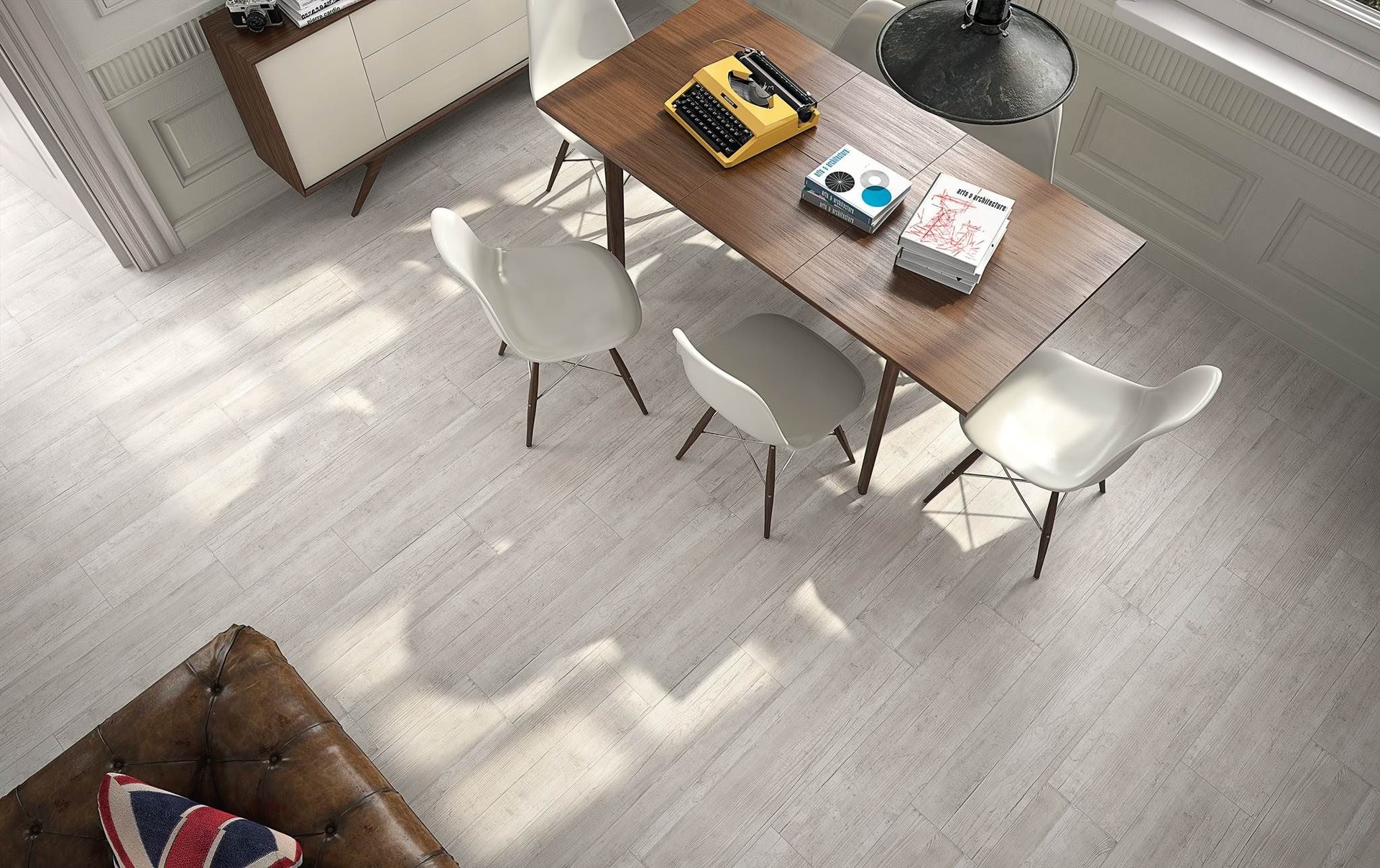 So, for the floor, we recommend Amsterdam Almond ,shown above. Inspired by the light and elegant flooring found in Holland's many medieval buildings, these wood-effect tiles have a relaxed vibe, but are also achingly practical. The large plank format – 232 by 1,200mm – really packs a design punch, but at under £30 per sq. metre, these Spanish matt-finished beauties will not break the bank.
For the splashback, we love the elegant restraint of our Calacatta-inspired Florence wall tiles, shown above. Made in Spain, these premium white-bodied ceramic tiles faithfully recreates the five-star appeal of natural marble. We have plumped for the matt finish for extra sophistication, although the gloss option also pops. Florence has just the right amount of veining and a gentle texture to bring the best out of the Falmouth's Dust Grey foil finish.
So, for a wow factor that will look just as good in ten years time as it does today, this is a perfect pairing for a truly stunning contemporary kitchen.