How To Steam Off Old Tile Adhesive
It is a much-repeated truism, but the key to successful tiling is preparation. And, when it comes to prep, the key is ensuring that you are applying tiles to a flat, clean, grease-free, and suitable substrate.
In a new build project, this should be pretty straightforward. But in the real world, you move into a new house, feel an urgent need to change the bathroom or kitchen wall tiles… and then find that – having removed the old tiles – you are faced with a whole new problem of how to remove old tile adhesive.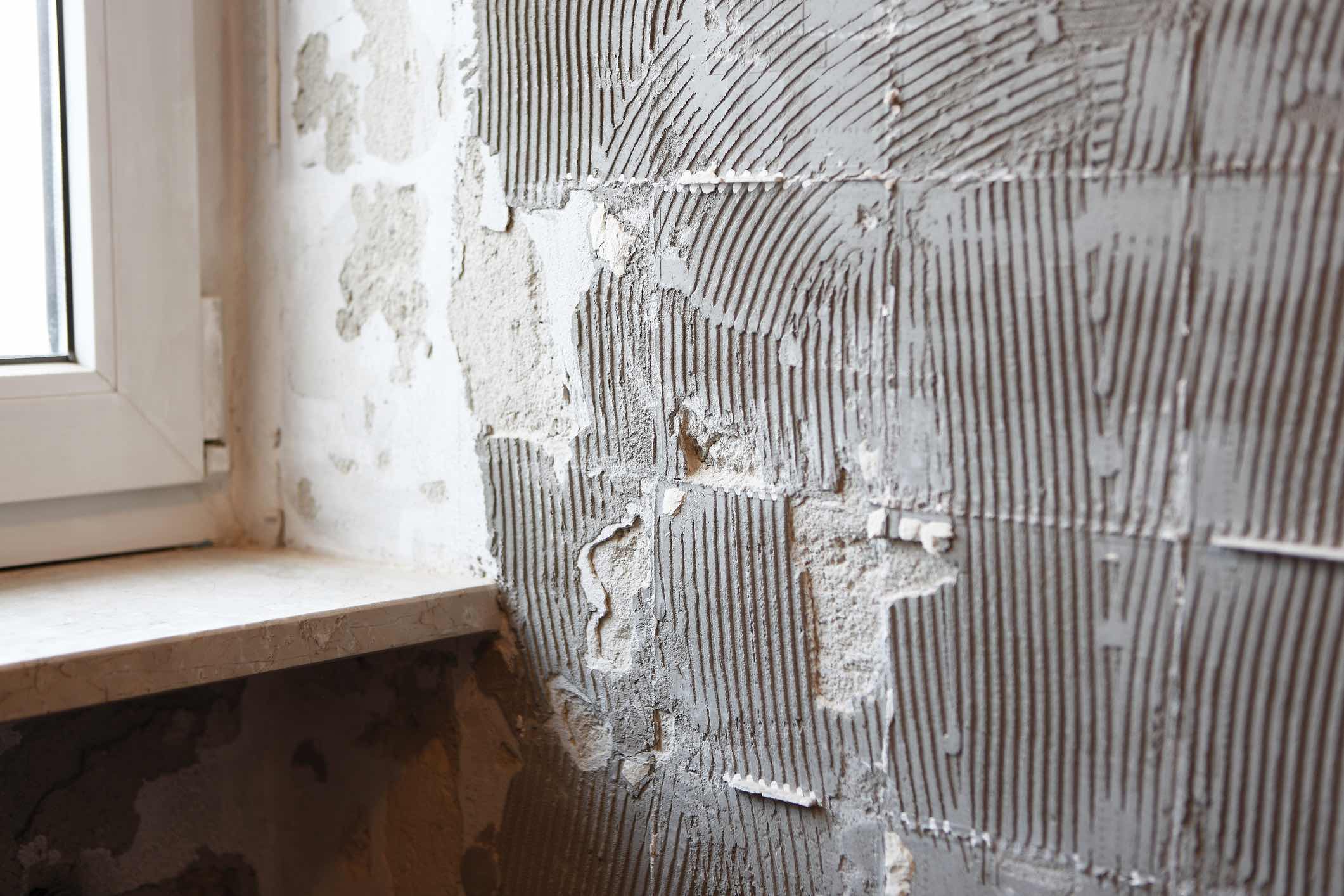 So you've removed the existing wall tiles... and you're now confronted with this!
Just how hard it will be to remove the tile adhesive residues from your walls is largely dependent on the type of adhesive originally used, and the walling material that lies below.  Some adhesive types will come off quite easily; others will require more elbow grease.
A note of comfort. Most wall tile adhesive residues are relatively easy to remove if you follow a few simple steps, and use the right tools.
Just how hard it will be to remove the tile adhesive residues from your walls is largely dependent on the type of adhesive originally used, and the walling material that lies below.  Some adhesive types will come off quite easily; others will require more elbow grease.
The basic adhesive removal kit is:
Protective sheets
A bucket filled with warm water
A clean cloth/sponge
A well-made scraper
A suitable steamer
Protective gear such as gloves and face mask
At Porcelain Superstore we suggest you try a test area before investing in expensive, and often unpleasant, speciality chemicals.
There are two simple methods to try: warm water and steaming. We find that these cope with most types of adhesive.
More stubborn materials might require commercial tile adhesive removers, but here you have to weigh up the relative merits of expensive adhesive removal against substrate replacement.  The latter, quite often, proves the better bet
Please don't try using heat guns to remove tile adhesive as the residues can be flammable.
Let's start with warm water - this is often enough to loosen the adhesive, making it easier to remove.
Simply use the protective sheets (old bedding always comes in handy!) to protect the floor from falling residue.
Dip the cloth/sponge in a bowl of warm water.

D

ampen a small area of adhesive with the cloth, using just enough water to saturate the adhesive without run-off.

 

Leave for a short while, the scrape off the adhesive, keeping the blade parallel to the wall's surface to minimise the risk of gouging.

Y

ou may need to leave the cloth on for a while in order for it to work, or to undertake several soak-scrape cycles.

Once the mortar softens up, scrape it off with a 4" scraper or a wallpaper stripper.
Repeat the process until all tile adhesive is removed.

 

Clean up the residue from the floor.
If warm water doesn't loosen the adhesive enough, try steam. Most DIY blogs suggest using a wallpaper steamer. These certainly perform well, but there's a disadvantage - few households own one, meaning either an expensive purchase or a hire charge. 
But while a wallpaper stripper may be the ideal solution, you can also use an old steam iron, or – and this is our top tip – a hand-held steam cleaner. These handy devices can not only help with this task, they're also a whizz at cleaning discoloured grout, brightening up taps and shower hoses, removing grease stains from fabric and a host of other common cleaning tasks. So for between £30 and £50 they make a great investment.
When using a steamer, work in small areas to prevent the softened adhesive from hardening up again.  Patience, as in so many DIY tasks, is key when removing old tile adhesive.
Again, lay down sheets to protect the floor.

 

Use the steamer to heat up a small patch of old adhesive.

 

М

ov

е

the steamer around slowly and try not to concentrate the steam on one spot for too long.
When soft, scrape the mortar off using your scraping tool.

 

It should come off quite easily.

 

Repeat the process until you have removed all of the adhesive.
Take your time. It's easy to damage the wall behind if you are too hasty, making it far

 

harder to achieve the desired results.

 

Finally, remove the protective sheets and dispose of any fallen residue.
Pro Tip
Take extra care if using the steaming method on a plasterboard wall.  Don't let the steamer sit in the same spot any longer than 20 seconds, as it can blow the plaster.
Will I Need To Re-Skim My Wall?
Depending on the state of the wall after you have removed the tile adhesive, you may need to have it skimmed. This is to ensure a flat surface for the new tiles.
However, please bear in mind that a plastered wall can't bear as much weight as an un-skimmed wall. This may be important if you're planning on fixing heavier porcelain tiles.
Recommended Steamers & Tools
As noted above, you can use a wallpaper steam or old steam iron to remove adhesive residues. But a more convenient method, and one that will add a very useful tool to your cleaning arsenal, is to use a handheld steam cleaner. These are readily available on-line, and in DIY sheds, or electrical retailers. 
The below steamers have all proved themselves in consumer tests:
Hoover SGE100 Steam Jet Handy Handheld Steam Cleaner
Available in grey, this has a steam time of 20 minutes and comes with 13 accessories included. 
It is available for £49.99 at both Currys and Argos.
Beldray BEL0701TQN Handheld Steam Cleaner
Available in a trendy shade of turquoise, it has a 10 minute steam time and costs £29.99 from Currys.  

Tower T134000 Handheld Steam Cleaner
Available in blue and white, it also has a 10 minute steam time and can be purchased for a wallet-friendly £25.99
Quest Handheld Steam Cleaner 
The Quest comes packed 9 cleaning accessories including a Long Spray Nozzle, Round Brush Nozzle, and Garment Steamer. All this for £19.93 at Amazon


The ideal scraper for this task is the 4in Multi Purpose Decorating Scraper, available from Travis Perkins, local DIY stores and builders' merchants.