How Much Does It Cost To Tile A Bathroom?
This, of course, is a classic "how long is a piece of string?" question. According to the experts at Homebuilding & Renovating:
En-suites with a shower, WC and basin

should generally be at least 1.8 by 1.6m, up to an ideal of around 2 by 2.2m.

A family bathroom featuring a shower, bath, WC, and basin should be around 2.4 by 3m, up to an ideal of 3 by 3m.

In floor area, therefore, we are talking between 2.88m² and 4.4m² for an average en-suite and 7.2m² to 9m² for an average family bathroom.
With the cost of the tiles ranging from just £10 per m² right up to £120+ per m² for cutting-edge porcelain, the floor tiles alone could cost anything from £30 to £1,000 depending on the tile chosen and the size of the room. That's before you factor in tile backer-boards, adhesive, grout, sealant, and labour.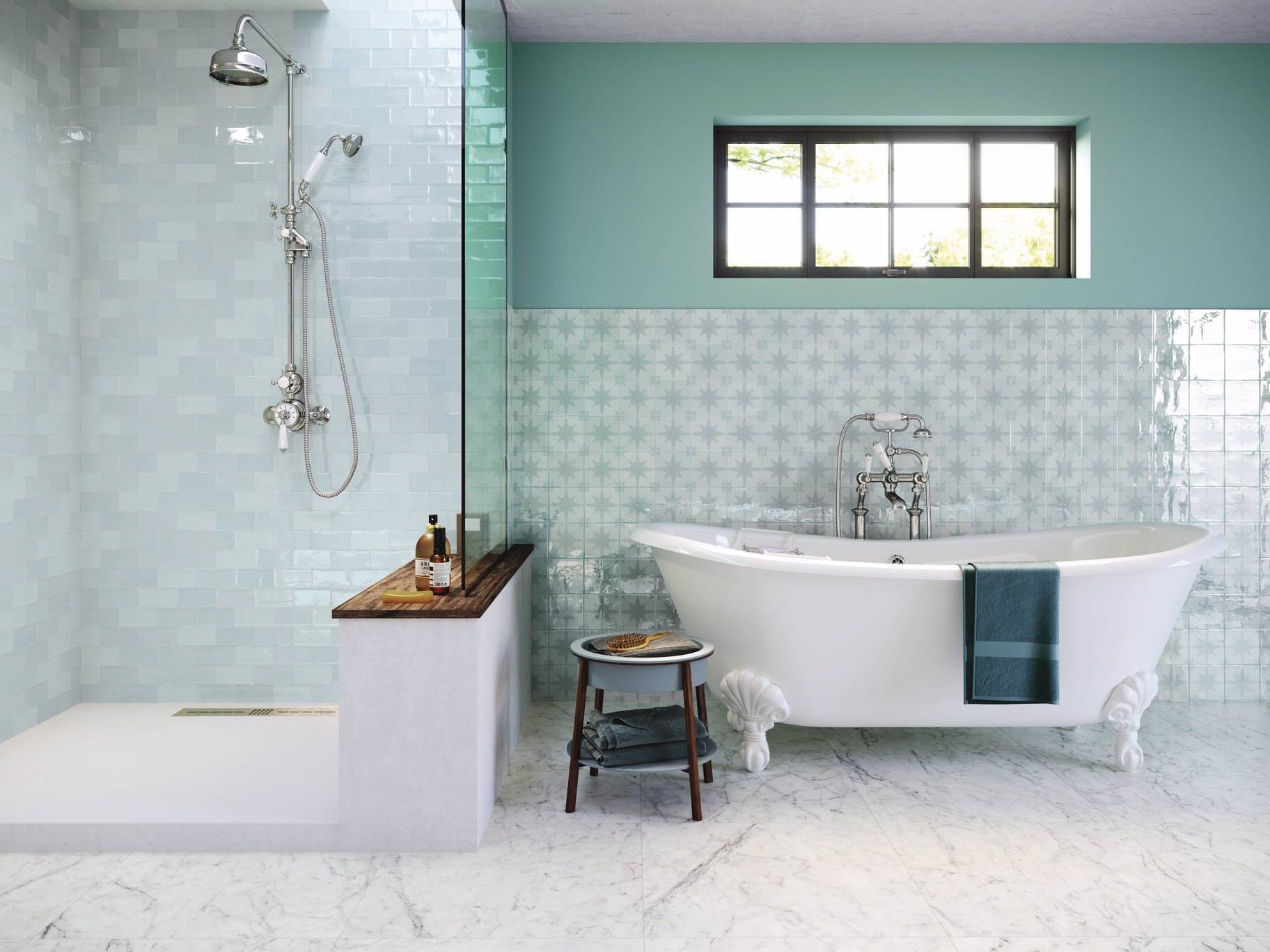 Bathrooms come in all shapes and sizes. If you've got the space for a freestanding bath and a separate shower - lucky you!
However, Bathrooms Are An Investment, Not A Cost
But is this really looking at the wrong end of the stick? A tiled bathroom, whether en-suite or family, should be viewed as an investment, not a cost.
Along with the kitchen, the bathroom greatly affects our quality of life and is key when it comes to selling your home. An impressive bathroom, finished to a high standard, can repay the initial investment many times over when it comes to negotiating the selling price of your home. And tiles, of course, are associated with the high-end, aspirational design that adds real value to any home.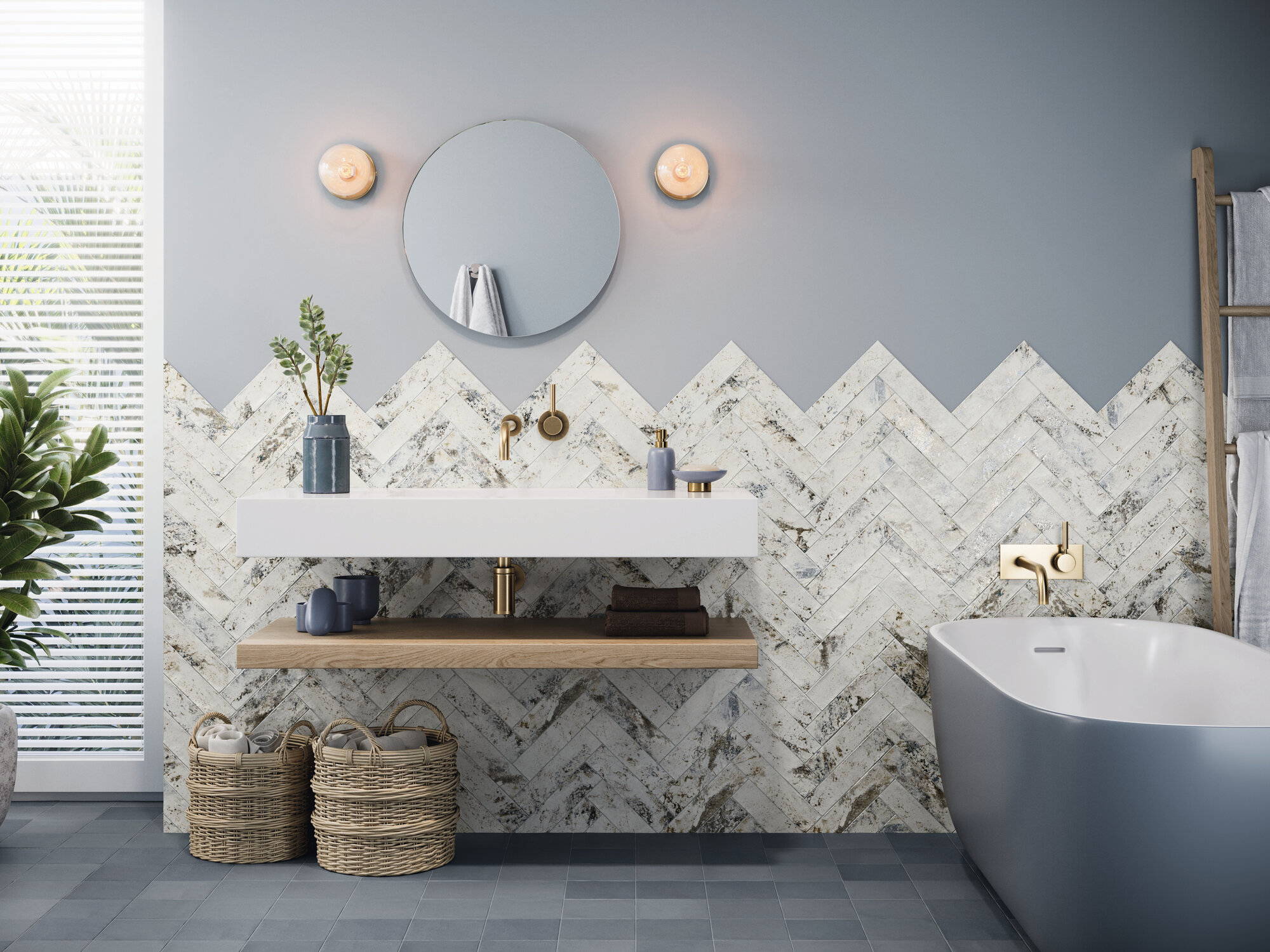 So, a better approach to calculating the cost of a tiled bathroom may be to set a budget then seek out the tiles that can achieve your desired look while sticking to that figure.
Often the real wow factor can be achieved by clever setting of the tiles, such as using a chevron pattern, bands of contrasting tiles, or coloured grouts. In this way you can get a five-star finish at a three-star price - just check out the bathroom in the image above. Here, a subway tile is laid herringbone, adding drama to the basin wall.
The Cost To Tile An Average Bathroom

All that being said, you still need an idea of average prices to set a realistic budget.
At Porcelain Superstore we estimate that, depending on the complexity of the job, an average bathroom can be tiled for around £500 to £750 all in.
However, there may be additional costs due to extras such as underfloor heating, fully-tiled walk-in showers and complex shapes such as curved shower enclosures.
Other Factors That Affect The Cost

The first is the area that you choose to tile. The most expensive approach is to tile the whole room; both the floor and the walls from top to bottom. The cheapest option is to only tile the area above the basin.
Many home owners opt for a mid-way solution, with tiles up to a certain level, with painted walls or wallpaper continuing up to the ceiling.
The next consideration is the material used to manufacture the tiles. There is a big difference between the cost of plain glazed ceramic tiles, and some of the latest high-end porcelains.
The size and shape of the room will also have a large impact on both the material and the labour costs.  As a rule of thumb, the more tile cuts that are required, the more expensive the job.
Here are some example costs with some common job types.
To fully tile a medium-sized bathroom – both walls and floor – allow £850 up to £2,000+ when using white body ceramic tiles; more for a high-end porcelain design.
The walls should come in somewhere between £700 and £1,700, and the floor in the region of £200 to £500.
For high end porcelain, a fully tiled solution should come it between £2,000 and £2,600: £500 to £700 for the floor, and £1,500 to £1,900 for the walls.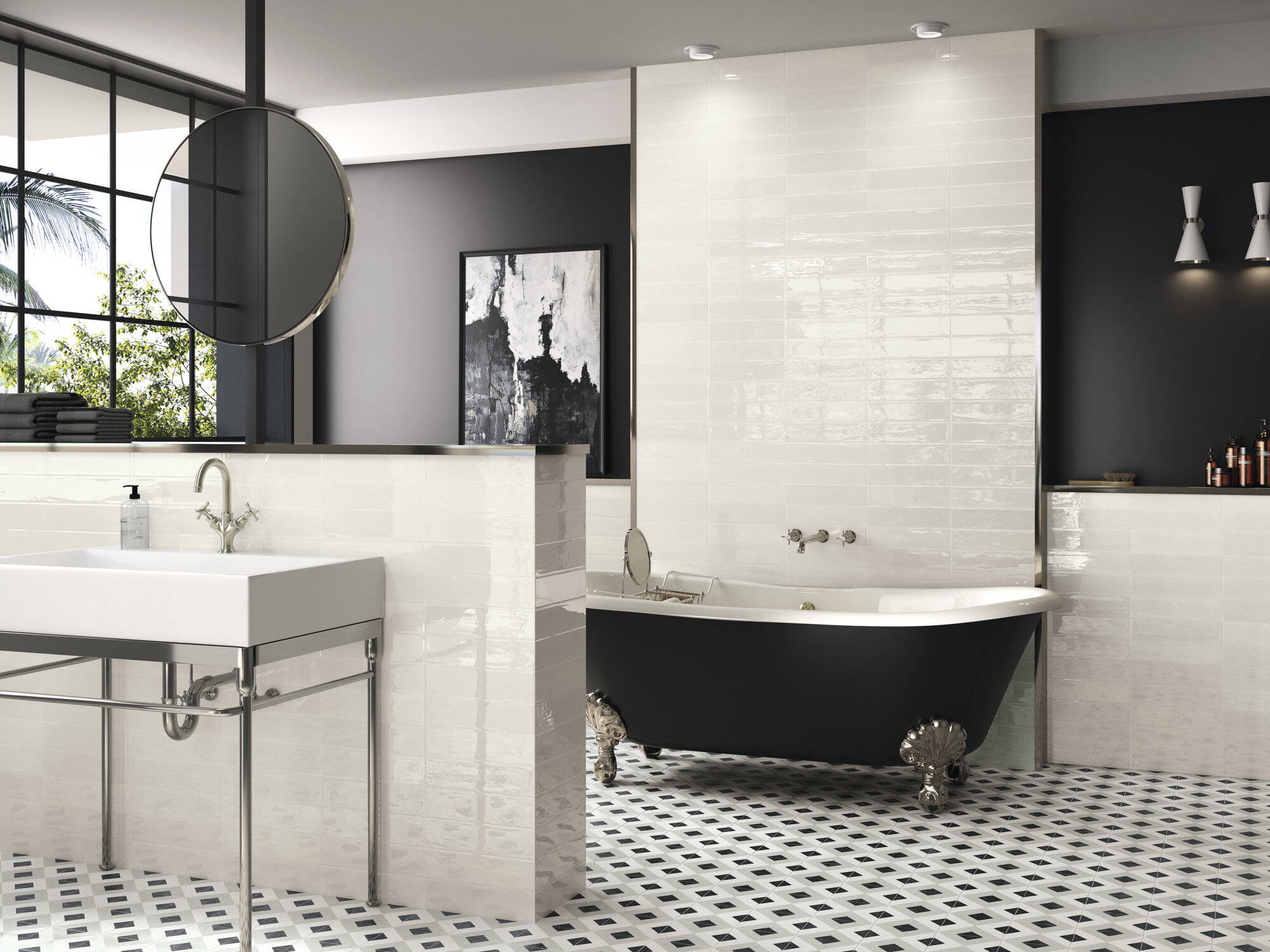 Here, ceramic tiles are laid on the walls while porcelain tiles are used on the floor.
If you only want to tile around the bath, then allow £375 to £900 for ceramic tiles, and £1,100 to £1,300 for porcelain. A simple splashback above the basin should be £90 to £300 for ceramic, and £150 to £200 for porcelain.
It is important to remember to buy around 10% more tiles than you actually estimate you will need, to accommodate any wastage caused by cuts and breakages. This will overcome the rare (but highly frustrating!) issue of appearance differences between batches of tiles, particularly if you are using more artisanal designs.
You should allow up to 4 days for your bathroom tile project, so that the adhesive has time to cure fully, and the grout to be applied, dry, and be cleaned off, before the bathroom is put back in use.