Metro tiles have been around longer than most of us will be able to remember. As we've said before, they're a design classic – equally at home on on the walls of the London underground as they are behind the bar of that cool new bar that looks straight out of Lower East Side, New York. They're as honest and unpretentious as tiles come and that perhaps explains their longevity – effortlessly cool, you know – like Steve McQueen on his motorbike in the Great Escape.
And like all great actors, metro tiles are versatile things. They have all sorts of end uses, from bars to kitchen splashbacks, bathroom and wetroom walls and even Victorian and Edwardian fireplaces. They can also be used to achieve a variety of looks in your home and where better to start than the latest on-trend industrial look? Here's a few of our tried and tested pointers:
Use a brick pattern
Bevelled metro tiles come into their own when laid in a 'brick-bond' pattern. This is pretty self explanatory – rather than matching up all the edges of the tiles in a regular pattern, the tiles should be laid so that they look like a brick wall. This means the grout joints will be staggered which creates an interesting visual pattern once the grouting has been completed.
Experiment with grout colour
Generally the norm with grout choice is to find the closest match to the colour of the tile and use that. Not so if you want to achieve that worn, industrial charm of old. If you're using a light coloured metro tile use a darker grout. The classic combination is white metro tiles with dark grey or even charcoal coloured grout. But it works in the opposite direction as well. If you're using a black metro tile, then use a white grout or pale grey grout. In both cases the grout will accentuate the shape of the tile brick laying pattern. You won't be disappointed.
Try a different finish
Metro tiles of the past tended to be made with a gloss glaze. The colour was painted onto the tile biscuit and then a clear, shiny glaze was applied as a final coat. This gives a beautiful sheen ad durability to the finish of the tile. But there are different finish options out there which also look great, especially if you want that aged, slightly battered look. If you've ever unearthered a painted or covered up fireplace in a Victorian terraced house, chances are you'll have come across some crackled tiles. They have a lovely patina which, thanks to modern techniques in manufacturing, can be replicated on today's crackled glaze metro tiles.
Go grey
Okay, so we don't quite have 50 shades of metro tile grey. Yet. But we do have a few which are dark and moody enough to suit a contemporary space requiring some a certain industrial finesse shall we say. Take a look at these three options and remember you can order two free samples to see how they look before buying.
Accessorise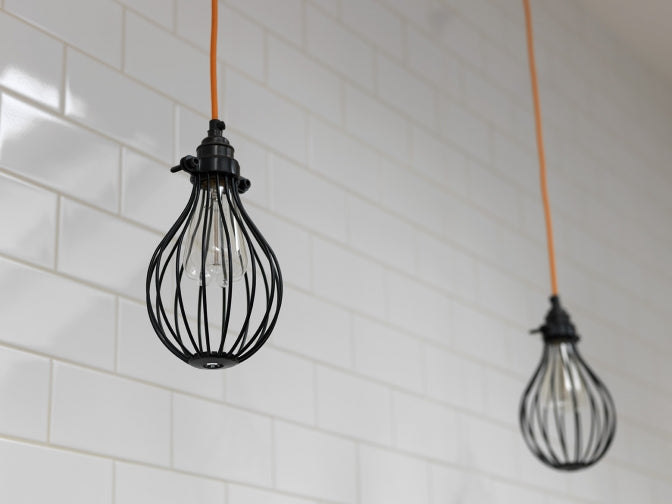 As with all good interior design projects, the end result is the sum of many different parts. To get the final look you crave, the other elements in your kitchen or bathroom must work together with the metro tiles. Think brushed stainless steel or battered brass taps (not chrome), textured wood finishes and warm grey kitchen cabinets. Lighting is also important – avoid the glare of halogen spotlights and think instead of filament lightbulbs, vintage shade fixtures and exposed fabric cable. Historic Lighting have a fantastic selection (paired brilliantly with metro tiles in the above image by Maclean interiors) at fair prices that are well worth a look.
So if you are looking for vintage, industrial charm in your home make sure you consider metro tiles and let your creativity and imagination run wild.